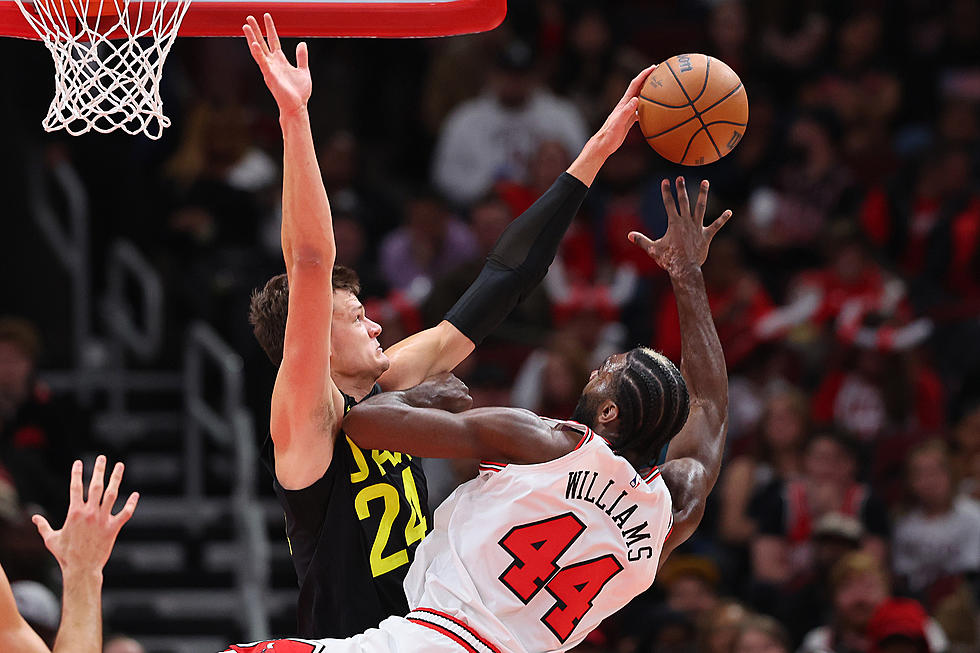 DID UTAH WIN? 8th Edition
Getty Images
Welcome to the Lazy Utahn's recap of the most recent Utah Jazz game. Do you want to talk to your friends about the game, impress them with cool stats, and act like you watch all 82 games like a true die hard, even if you didn't catch the big game last night? We got you covered in this simplistic breakdown of each topic that may arise from the latest Utah Jazz showdown.
Did Utah win?
No. Utah did not win. And you know what? I'm getting tired of typing that out. 8 games into the season and I've had to deliver the bad news 6 times already.
The Jazz lost to the Chicago Bulls 130-113 on the road.
Utah has now allowed 125 or more points in regulation three times in 8 games.
The Jazz now find themselves 14th in the Western Conference, only a half game up on the 1-6 Memphis Grizzlies.
Last year's tanking iteration of the team was an inversed 6-2, this year's "competitive" version of the team is 2-6.
Bro, you're sounding pretty negative, they'll figure it out, right?
Maybe. And if they do then we will have that discussion, but as of now the Jazz are very deserving of the disappointment and frustration fans are demonstrating at the moment.
Fans debated on and off throughout last year whether tanking for a top draft selection or establishing a winning culture was more important to the long-term success of the team.
A year later, it appears the Jazz failed to do either.
With this mindset its easy to see why fans are bothered at the moment.
Team #culture is experiencing young promising pieces like Walker Kessler and Ochai Agbaji look lost and out of place at times while the steadfast veterans have struggled tremendously.
The hungry and untested rotation that bought into last year's culture as one of the scrappiest teams around, now seek to dismantle one another as they prove their individual worth.
Team #Tank is seeing that the good vibes and underdog beauty that Utah possessed last year didn't translate, all the while Utah's #9 draft selection has logged a total of 2:25 with 1 point on the season.
Not a Victor Wembanyama highlight exist on Twitter without some Jazz fan reposting it, jokingly stating how glad they are that Utah prioritized culture.
I'm not saying one side is right or one side is wrong in their initial pursuits. What I am saying is both sides right now feel cheated with where Utah currently stands.
Well, that's just like your opinion and stuff dude. Its hard to win on the road in the NBA.
Yes, it is. Utah has proven that point by dropping all 4 road games on the season by an average of about 18.8 Points a game. Utah isn't just losing on the road; they are getting pummeled.
When they showed up in Chicago, the Bulls had a 1-2 home record. Utah can drop road games to Denver and Phoenix and yes even Minnesota, but Chicago was a great chance to pick up that first road victory.
To set it up even more in favor for Utah, Chicago had lost three straight and was averaging 105 points per game on 44 percent shooting. Some of the worst offensive marks in the entire association.
The offensively incompetent Bulls would then do as follows in the win over the Jazz:
Score 130 points in the win (Season high by 18 points)
Shoot 51.6 from the field (Season High by almost 4 percent)
Shoot 53 percent from deep (Season High by almost 13 percent)
Knock down 18 triples (Season High by 6 made three pointers)
The Bulls also had more steals than ever before this season with 12 (2 more) and tied their lowest turnover number of the season at 8.
The Jazz aren't just letting teams have big nights, their allowing them to look like completely alternative versions of themselves.
The Bulls are not good, the Jazz made the Bulls look good. Thus, the math would tell you the Jazz are very bad.
I didn't realize Chicago was so offensively challenged, who stepped up?
Zach LaVine had 24 points and got to the cup early and often.
DeMar DeRozan netted 21 points with a 61.5 shooting percentage to pair with 5 rebounds, 4 assists, and 4 steals.
Coby White cooked Utah for 18 points while going 7/9. White would hit 4 three pointers on the night and lead the offense with 7 assists.
4 Chicago bench players would score in double digits (Patrick Williams, Alex Caruso, Jevon Carter, and Andre Drummond.) 8 Bulls would score 10 or more points by nights end.
Give me a glimmer of hope here, did anyone play well for the Jazz?
Lauri Markkanen returned to Chicago and continued his nightly tradition of finding a way to score the ball at a high clip despite everyone around him struggling to contribute.
Markkanen had 29 points and hit all 8 of his free throw tries. His dominance from deep continued with a 41.7 percentage and 5 three pointers made.
Walker Kessler showed up for the second time this season with 15 points, 4 blocks and an outstanding 15 rebounds. 11 boards were offensive teardowns (career high) giving the Jazz more chances than they deserved.
Kessler still shot under 45 percent on the night, uncharacteristic for himself. But he did hit a three and Jazz fans are thankful to see any signs of life from players who they know have the talent.
Kelly Olynyk made the team better when he was on the floor as he tends to do. Olynyk had 13 points, went 5/7, hit two threes, and led the team with 8 assists. His 7 rebounds were second only behind Kessler.
That's the good, what's the in between?
John Collins was not as impactful as he's been at other times, but his 14 points and six boards was still serviceable.
As far as guards go, neither Collin Sexton or Keyonte George did anything extra effective, but the energy and effort they bring to the backcourt should have Jazz fans anticipating a change
Sexton had 14 points, 2 assists and only 1 turnover, which is a step in the right direction.
George was 2/5 for 5 points, 4 assists and 2 turnovers.
Kris Dunn reemerged for almost 11 minutes and was perfect from the field for 3 points while getting 5 rebounds and 3 assists, also with 2 turnovers.
Now give me the bad.
Talen Horton-Tucker. 5 points on 5 shots is bad.
6 rebounds and 4 assists are ok.
5 turnovers are very bad.
Jordan Clarkson has been struggling immensely. He's scored less than he has on average since 2017, shot worse than he ever has in his career (34.5 and 27.3) and the only redeemable quality is a higher assist number than per usual at 5 per game.
Right now, JC is just a decoy, and his season didn't get any better in Chicago.
Clarkson had 7 points on 14 shot attempts, went 1 of 8 from beyond the arc and turned it over 5 times to go with 6 assists. Make of that what you will.
I said give me the bad, not the atrocious. What's the stat?  
This isn't a pro Utah article right now, so let's keep the vibes going. If you want this game summed up in one stat, just look at what was going on at halftime:
Can you give me one cool play?
Here is Utah's current most effective offensive play. The have a 100 percent success rate when Coach Hardy draws this one up.
Who faces the wrath of the Jazz next?
Utah is in the Hoosier state to face Tyrese Haliburton and the Indiana Pacers this Wednesday the 8th.
This is the third and final road game of this quick trip, giving Utah one more chance to pick up a road win.
The game tips at 5:00 Utah time, so be sure to leave work early to witness greatness.
Indiana is 4-3 and just boat raced the Spurs, 152-111, meaning Utah's defense isn't about to look any better.
More From Sports Radio 97.7