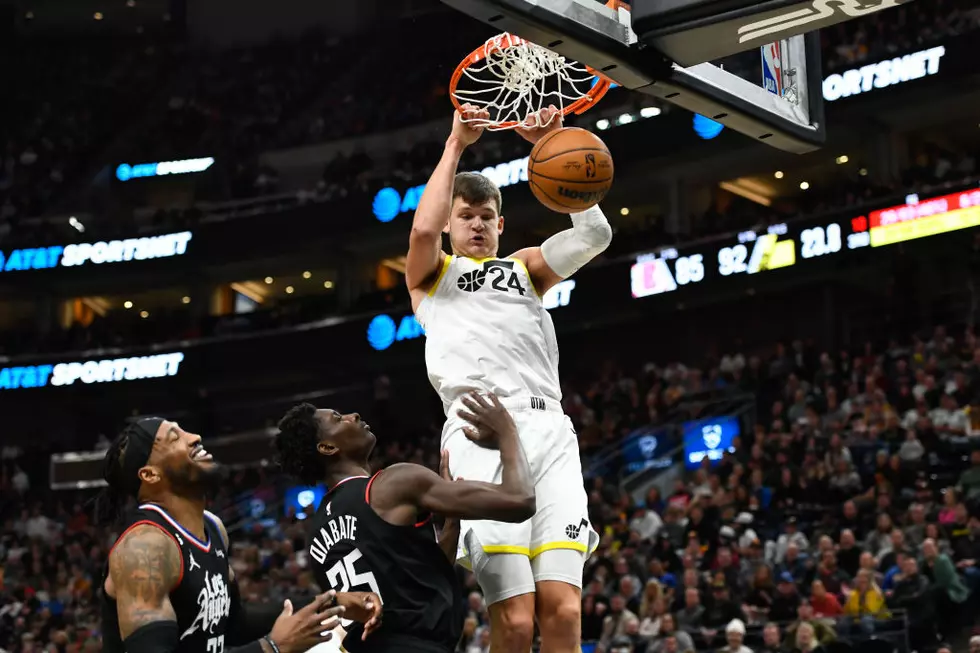 HOW BOUT THIS JAZZ? (GAME 47) 
Getty Images
AT MINNESOTA TIMBERWOLVES (1/16/2023) 
Beginning to write about this game without mentioning Walker Kessler is about as difficult as boxing him out would be. The young man went off, in fitting fashion, against the team that drafted him just this past offseason. Without recapping the whole scenario for the thousandth time, the young man form Auburn was a part of the package the Jazz received in the Rudy Gobert blockbuster. Kessler never stepped on the floor as a member of the T-Wolves and now fans and media alike in the Twin cities are lamenting it. Kessler would take to Instagram after the game with a subtle shot at Minnesota by commenting "Hindsight 20/20". The kid looks to be something special and in Utah's position there is little reason why he should not be a full-time starter. With the trade deadline right around the corner, I would barter for this to be the case soon. Kessler's best moment came with under a minute to go with the Jazz holding a 2-point lead. The Wolves inbounded the ball to Kyle Anderson who spun off a fake pass to Russell. Anderson attacked one on one with Kessler and sensing the mismatch, he fired a pass baseline to a cutting Anthony Edwards who spun backwards into Kessler's body, realized there was nothing there and got rid of it. The ball would of course, find itself back in the hands of the Edwards who took Ochai Agbaji off the dribble from the perimeter and weaseled inside. Kessler stepped over into the paint, which prompted Edwards to rapidly fire off a quick, thoughtless pass out of bounds for the turnover. That's three attacks in 12 seconds at the basket that resulted in zero shots and a turnover, all impacted by the Jazz rookie big man. Jazz fans may recognize this defensive aura from years of watching Rudy Gobert perfect his craft. Walker Kessler is doing it now, in a big way. The Jazz ended up with a clutch 126-125 victory, but the Jazz were not leaving Minneapolis as losers regardless of what the final score read. The Jazz won. They won on the floor at Target center, and they won the trade if there was ever any doubt. Despite Markkanen and Olynyk's absence, the Jazz top 5 offense had no problem scoring the Ball. The Jazz backcourt was paced by Jordan Clarkson and his 21 points, Collin Sexton had 19 in his return  after the game he missed after his other return. Vanderbilt had 15 against his former team and of course Walker Kessler with 20. 7 Jazz players ended up in double digit scoring and even had a 12/12 run for a moment.   
BUILDING BLOCK
The other backcourt member, and fellow rookie with Walker Kessler is Ochai Agbaji. Agbaji had 17 points and is our building block of the day. Of course, Walker Kessler is the number one guy in this scenario, but he no longer feels like a building block after his 20-point, 21 rebound performances.  Kessler is a BUILT block. Bad jokes aside., Agbaji was fantastic and provided an extra special glimpse into the potential future of the Jazz. He was 3 of four beyond the arc, but even more impressive was his ability to get inside. In 8 attempts he only missed 1 shot inside the arc, and one outside. Just as important if not more, was Ochai closing this ball game and providing some essential defense on Anthony Edwards. His defense has come a very long way in a very short amount of time. Will Hardy mentioned that you "have to feel like you belong in order to make those big leaps." And both Jazz rookies seem to feel like they belong. If that same college consistency that made Agbaji unique appears at this level, add him to Markkanen and Kessler on the untouchable list.  
THREE KEY NUMBERS
 52.4  
Per Twitter user, Dunzod, the Jazz last ten games have seen a new sharp shooter rise to the top. Ochai Agbaji has been a blistering 52.4 percent from downtown. Collin Sexton and Talen Horton-Tucker are the runners up at 45.5 and 40 percent respectively. Both players have not played the last ten games with Sexton at 4 and THT at half of the ten, Agbaji has been in 8 of the last ten.  
65 
StatMuse had an NBA history nugget for Jazz fans over the Walker Kessler show. According to them Kessler's 20 and 21 game made Walker the first rookie to do so while shooting 65 percent or more from the field. The last guy to do it went by Zo. Alonzo Mourning, Walker Kessler on the same page in the history books.  
60 
Jazz fans may not have a championship but rarely have they ever had to put up with a porous NBA team. To prove it, NBA hoops online shared that with the win in Minnesota, the Jazz have made certain they will not have a 60-loss season even if they lose out. The Utah Jazz are the only NBA franchise to never have a 60-loss season. It seems like it would way be way easier than it is to not lose 60 games, but apparently Utah is in a class of their own.  
OPPOSING FAN COMMENT OF THE NIGHT:  
"Boy I wish we had this Walker Kessler guy; he seems pretty good." – BT_phoenix 
More From Sports Radio 97.7