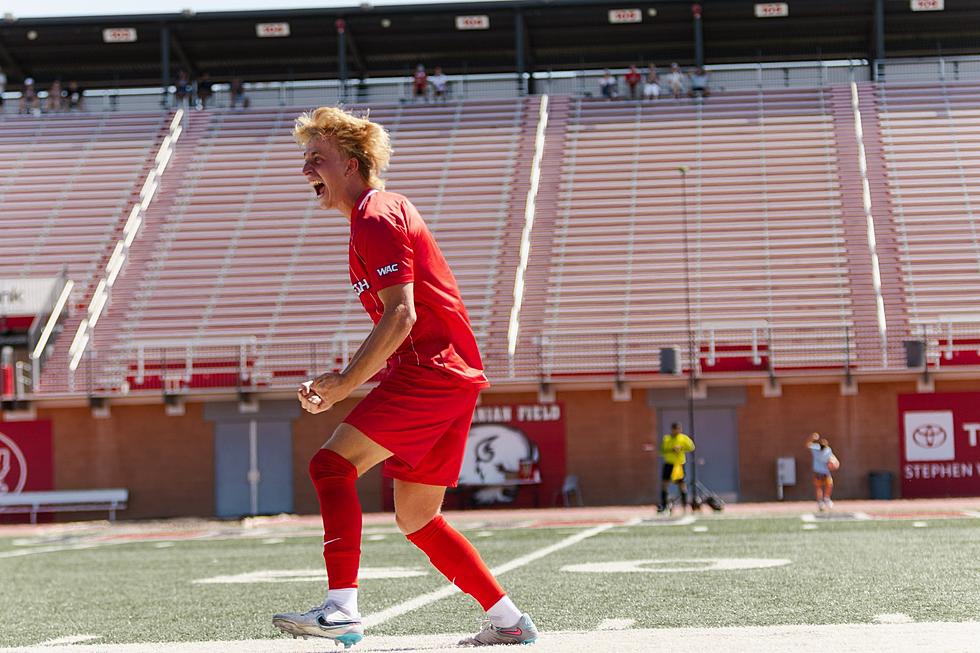 Utah Tech Men's Soccer Starts Conference Play Sunday
Utah Tech Athletics
Utah Tech soccer is starting conference play this Sunday against UTRGV.
Here's the press release from the UT Athletics Media Relations. Link to full article below:
Scouting the Competition:
UTRGV is 3-4 on the season and coming off a road loss to the Omaha Mavericks last weekend. With victories over Incarnate Word (3-0), Texas A&M-San Antonio (5-0) and Xavier (2-0), the Vaqueros sit at No. 5 in the WAC standings as conference play begins. Keaviano Francis and Kgodiso Sukati lead the UTRGV offense that is tied for third in the conference with 13 goals scored this season.
Through three meetings in program history, Utah Tech holds a 1-1-1 record when playing the Vaqueros; Anthony Godinez scored his first career goal in a 1-1 draw last season.
Comeback Kids
Utah Tech earned its fourth victory of the season against UC San Diego on Saturday, defeating the Tritons 2-1 on the road. The hosts opened things up with a goal just 12 minutes in but Utah Tech found goals from Sami Cuevas in the 61st minute and the eventual game-winner came from Jimi Villasenor in the game's 87th minute. The Trailblazers out-shot UCSD 18-12 while taking four corner kicks as Damian Arguello recorded his first assist at Utah Tech.
A Strong Start
After Saturday's victory, Trailblazer men's soccer has already matched its 2022 win total with four. UT finished 4-12-2 last season and was picked last in the preseason poll to start the 2023 campaign, whereas the team currently sits at third in the conference thanks to a 4-4 record with eight games remaining in the season.
Success on the Road
The Trailblazers have spent a great deal of time on the road this season, playing six of eight non-conference games outside of St. George. This season's road success is a first for the team's Division-I era, as the last time a Utah Tech men's soccer team won three or more games on the road in a single season was during the 2019 campaign, which came at the Division-II level when the Trailblazers finished 7-3 outside of St. George.
The First of Many
Sami Cuevas' 61st minute goal against UC San Diego proved to be a big moment for multiple reasons. Not only did it level the game and provide the team some much-needed momentum, it was also his first goal as a collegiate athlete. A true freshman from Valera, Venezuela, Cuevas leads the team in shots (20) and shots on goal (14).
Familiar Faces
Utah Tech has had several players feature prominently this season, with AJ Ciampini, Julian Herrera, Damian Arguello, Anthony Godinez, Angel Saldana and Stockton Short all starting all eight games this year; Jimi Villasenor and Bubu Medina have started seven times while the likes of Cuevas, Abigay Gomez and Oliver Stone have appeared in every single game.
Californians Moving To Utah Are In For A Rude Awaking
Moving to Utah from California will be a huge culture shock for most. From politics, weather, and wildlife. Here are some things you should probably know before moving.
More From Sports Radio 97.7