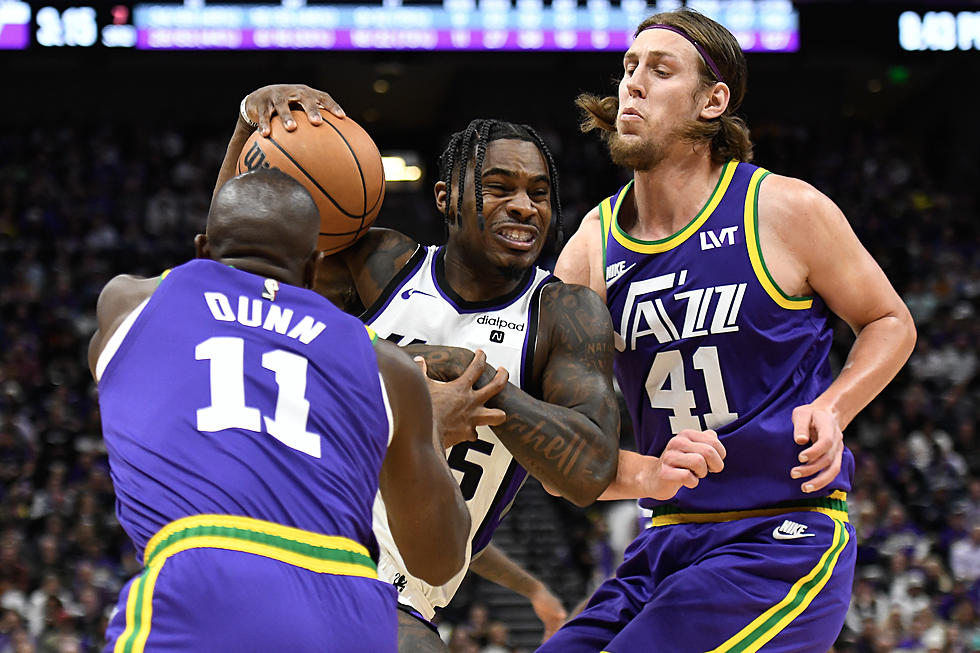 DID UTAH WIN? First Edition.
Getty Images
Welcome to the Lazy Utahn's recap of the most recent Utah Jazz game. Do you want to talk to your friends about the game, impress them with cool stats, and act like you watch all 82 games like a true die hard even if you didn't catch the big game last night? We got you covered in this simplistic breakdown of each topic that may arise from the latest Utah Jazz showdown.
Did the Jazz win?
No, the Jazz did not win. They lost at home to the Sacramento Kings 130-114. The Jazz are now 0-1 on the season.
Oh they lost? Bummer Deal. Who was public enemy #1?
12-year veteran Harrison Barnes went supernova in this game, burying the Jazz before they ever had a chance. Barnes would score more than 30 points for only the third time in his last 5 seasons with a crisp 33-point performance.
Barnes wasn't just scoring; he was doing so at a rapid pace in an effective fashion. At the halftime break, Harrison was 10/11 from the field, 5/5 from deep and had 27 points himself.
Barnes would finish the night with those 33 points on 11/16 shooting. He hit all 6 free throw tries and added 4 boards and two assist in the Kings win.
If you want a whole 4 quarters type of performance, you can cite Domantas Sabonis. Sabonis, who struggled at times VS the Jazz last year had few issues on opening night.
Sabonis would bully his way to 22 points, 5 assist and 12 rebounds, 6 of which were offensive. He shot 57 percent from the field.
Ok, they he had a big night. What was the real reason we lost?
The Kings outpaced Utah in multiple statistical categories illustrating that it wasn't much of a fight.
The Kings had 7 more assist and 3 less turnovers than Utah while swatting away 6 more shots.
The biggest box score takeaway lies in the three-point shooting. Sacramento nailed 10 more triples than the Jazz with a 19 of 51 night, whereas Utah went 9 of 28. The Kings shot better from the field than the Jazz on 11 more shots.
Outside of the Box score, you can blame it on the guard play, the perimeter defense, and an overall lack of tenacity on ether side of the basketball. The Kings were the aggressors the whole game and the final score reflected it.
With that in mind, how embarrassed should we feel about that loss?
The game was ugly. It exposed a lot of weaknesses that this Jazz roster will have to face on a night-to-night basis. It offered no further clarity in the guard rotation. Yet, for all it wasn't, it was a loss to a really good Kings team who is on the rise.
The Kings were the three seed last year in the West and have every reason to believe they have improved from there. No reason to feel embarrassed about the loss as a fan. Proceed as normal.
Yeesh, things sound pretty bleak. Did anyone play well?
Jordan Clarkson returned to the floor for the first time in a while dating back to last season and seemingly picked up where he left off.
Clarkson led the Jazz in scoring with 24 points, in assists with 6, and in free throws made going 6/8. JC went 50 percent from the field and 2/5 from beyond the arc.
John Collins looked steady in his regular season debut in purple. The newly acquired forward was a constant 6/11 from the field, nailing one three ball and ripping down a team high 11 rebounds. Collins would finish with 15 points.
All-Star, Lauri Markkanen, struggled from the field and was hampered by Sacramento throughout the night, but still found a way to record a double double with 19 points and 10 boards.
Got it, so who struggled?  
It wasn't a great night for really anyone on the home team.
Talen Horton-Tucker got the starting nod at the point and mustered 22 minutes of 8 pts on 3/9 shooting and 4 assists, leaving a lot to be desired.
Even so, it's not as if anyone else in the guard rotation made a statement themselves.
Preseason superstar and resurgent success story, Kris Dunn, seemed to be trying to do too much. Dunn was a team worse -16 on the night with 8 points to 4 turnovers only allowing him 16 minutes form Coach Hardy.
Ochai Agbaji went 2/6 for 5 points and recorded the same number of minutes as rookie Keyonte George who was 3/5 for 8 points with 2 assist and 2 rebounds.
Collin Sexton got twenty minutes and had 9 points on 9 shots. His 3 rebounds matched his 3 personal fouls and 3 turnovers.
Walker Kessler appeared to play well enough from a box score standpoint with 8 points on 4/5 shooting and 8 rebounds. The truth is, Kessler was a -14 on the floor and was a system mismatch as Coach Hardy only left the starting center on the floor for 22 minutes.
If you want the short answer, everyone struggled on the fighting J-notes.
Give me a cool stat to impress my friends!
Utah's defeat last night was the first time in six years the Jazz had lost on opening night. The last opening loss came in 2016 in Portland. The Jazz would go 51-31 that season.
You can also ogle over Utah's porous defensive breakdown:
Any super sweet plays?
Utah didn't have much going on, but here's a sweet Ochai Agbaji throwdown:
And an unfortunate Kris Dunn getting posterized by Malik Monk to describe the Jazz's performance best:
Who do we play next?
The Jazz will host the Los Angeles Clippers on Friday night (October 27th)
The Clippers are 1-0 and won their home opener over Portland, 123-111.
More From Sports Radio 97.7