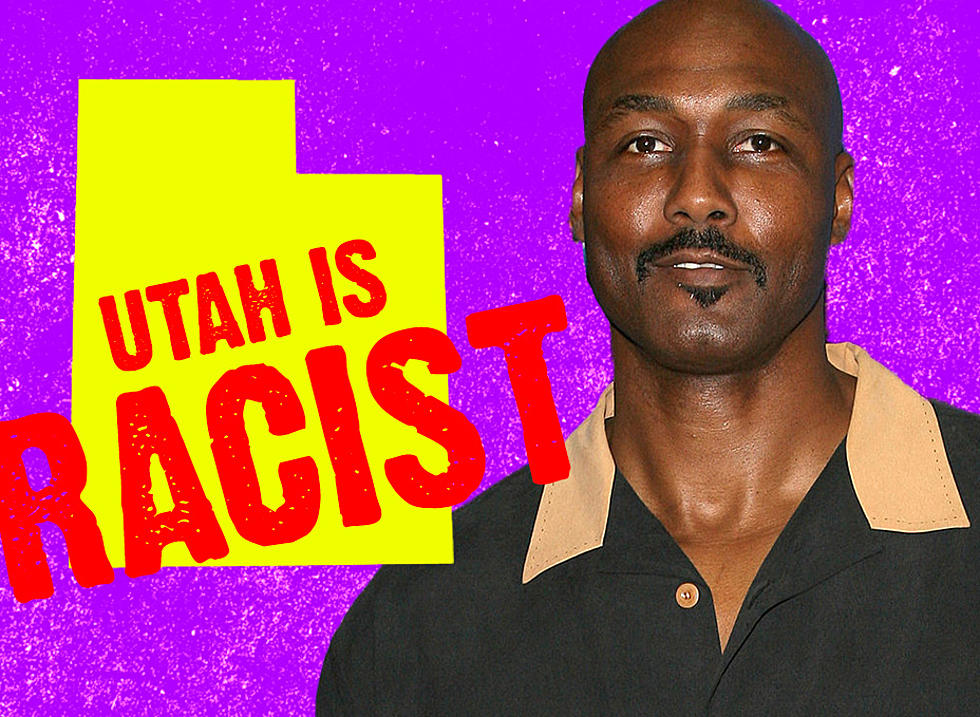 Karl Malone on Utah Being a "Racist State"
Getty Images, Illustration: ESPN 977
Karl Malone got a lot of attention over NBA All-Star Weekend
He was recognized with LeBron James and Kareem Abdul-Jabaar as one of the top three scorers in NBA History.
He was a judge for the Dunk Contest
And he was the best judge by the way. By far the most harsh, which is all I want in a judge. It's not fun when every dunk is a guaranteed '48 or above'. Give me somebody with the guts to give a low score. The Mailman delivered in that regard.
He was also asked by the Salt Lake Tribune about his impregnating a 13-year-old girl when he was 20 years old.
This story has come to define Malone in the press over the past decade or so.
Malone doesn't talk about it.
This is from Eric Walden's story about Malone in the lead up to the All-Star festivities in Salt Lake. Walden brought up the story:
      "I'm not discussing any of that backlash. I don't care," [Malone] said defiantly. "That's my life, that's my personal life, and I'll deal with that like I've had to deal with everything. So, whatever."

He's aware of the shifting narrative, but has no thoughts about it?

"Whatever. I'm human."
I don't think Malone is ever going to talk openly about this. I don't think he's ever going to try and correct the past and try and gain absolution from society. I think he's just going to keep moving forward. I'll be interested to see how the Jazz react to pressure around this story. He has a statue outside the stadium. He might want to help coach again etc...I'm not sure how Ryan Smith is going to treat Malone going forward as the biggest name in franchise history.
Malone was also asked his opinion about his experience with racism in Utah which has been a storyline recently after Donovan Mitchell was critical of the state in regards to racism.
"The people of Utah have been amazing to me. It does hurt when negative things are said about Utah, because I know what kind of place it is. It's special to me," Malone said. "We all can do better, but this is a special place to me. The people here have supported us and everything we've done here in this community."
"I've been in Utah, and I've never heard a racial slur or anything like that. When I played in the arena, I wouldn't have allowed it," Malone said. "... That's what I stand on. But Utah is my home, and I love Utah — I don't care what you're thinking in your mind about [racism here]. I never heard it. I'll defend Utah to the death. I believe all of us can do better, but all these people who talk about Utah — isn't it amazing that all these celebrities are moving here? It's a great place." (Salt Lake Tribune, February 20, 2023. Eric Walden)
It's nice to have somebody defend Utah every once in a while. I loved reading this.
Indoor Fun Things To Do In The St. George Utah Area
St. George is known for it's National Parks and other kinds of fun in the sun. But If you're more INDOORSY than OUTDOORSY, here are some things to do in St. George that don't require sunscreen.
More From Sports Radio 97.7