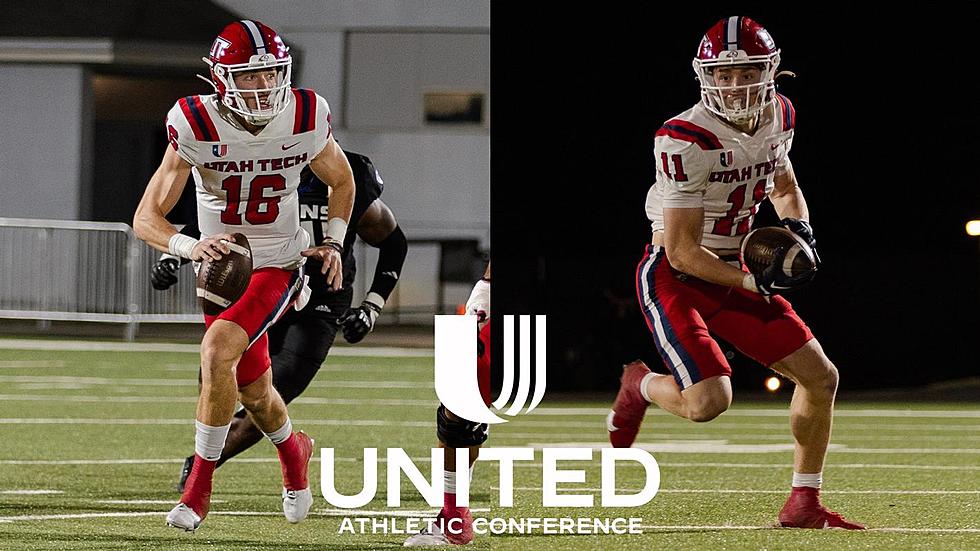 Utah Tech Football Players Honored with Weekly Awards
Utah Tech Athletics
Utah Tech lost on Saturday in heartbreaking fashion. They went for a two point conversion to win the game and missed it.
That didn't keep the United Athletic Conference from awarding two Tech players for their awesome performances.
Here's the full press release from UT Athletics Media Relations (Link)
Utah Tech redshirt junior quarterback Kobe Tracy and freshman wide receiver Beau Sparks both collected United Athletic Conference weekly honors on Monday.
Tracy (6-4, 195; Chubbock, Idaho/Highland HS) was named UAC Co-Offensive Player of the Week after he threw for a career-high 397 yards and three touchdowns in Trailblazers' heartbreaking 31-30 road loss at North Alabama this past Saturday night.
The junior QB, who also threw for three touchdowns two weeks ago in UT's home win vs. Stephen F. Austin, led the Trailblazers on a school-record two 99-yard touchdown drives in both the second and third quarters. He completed 26-of-40 of his attempts on the night and had five completions of 30 or more yards to four different receivers.
Tracy's three-touchdown game was the fourth of his career, and marked the first time he has thrown three touchdown passes in consecutive starts. In addition, his 397 yards bested his previous career high of 388 yards he threw for in a home win last year vs. Chadron State (9/10/22).
Sparks (5-11, 180; El Paso, Texas/Franklin HS) earned his second UAC Freshman of the Week award of the season after caught eight of Tracy's passes for 92 yards and two fourth-quarter touchdowns last Saturday night, including his second TD catch from 19 yards out with just 31 seconds to play.
For Sparks, who last week was named to the 2023 Jerry Rice Award national watch list, it was his second two-touchdown outing in his last three games overall, and he has hauled in five of his team-leading six TD catches over this current stretch.
Utah Tech is returns to Greater Zion Stadium next Saturday as the Trailblazers celebrate Homecoming by hosting current UAC co-leader Eastern Kentucky. Kick-off is slated for 6 p.m. (MT).
2023 Highest Paid College Football Coaches
Gallery Credit: David Schultz
More From Sports Radio 97.7